Test service objects
Independent design/research and develop enterprises:IC validating and debugging, IC test, IC character analysis.
College/institute of science research:IC validating and debugging, IC test, IC character analysis.
Semiconductor enterprises engineering department:development of test progress.
Semiconductor enterprises product department:chips testing.
Integrate circuit type of test service
VLSI digital circuit
SOC (system chips), AMS (analog and mixed signals) circuit
Artificial circuit
Test service ability
Acceptance test of IC project:validate and debug on silicon chips and system level to find out chip faults caused by design and techniques. Carry out IC character analysis test to supply data for IC Datasheet.
IC production test:chips product test.
Test technical support:
Test progress development.
Test vectors transfer.
Design consultation of DFT(design for test) and DFD(design for debugging).
Test technical trainings:
Training on test way, test equipment, test development, metering techniques etc.
Training on machine test techniques.
Developing techniques training for testing program.
Test service varieties
Test technical services:
Chips debugging and test.
Test progress development.
Test vectors transmit.
Design and manufacture of DUT plate.
Consultation of test technical.
Training of test technical.
Rent of ATE test machine
Rent of Metering equipment
IC test service flow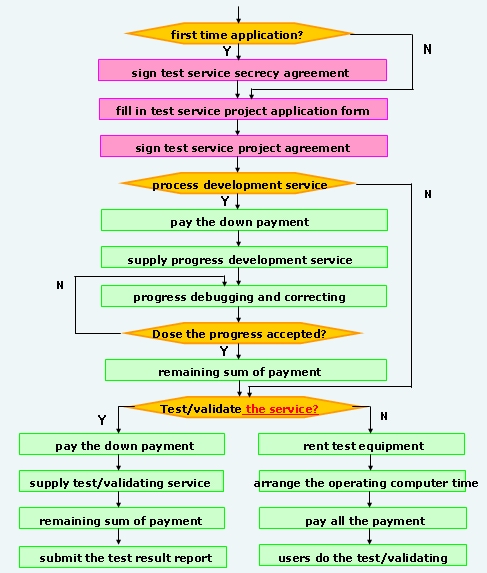 Document download application of test service
Secrecy agreement of test service
Application form of test service project
Agreement of test service project
Using application of meter device
Rent agreement of meter device
Submit the 'statistics of testing time' to the test platform management department.